Sales for the 2021/22 season have closed. If you need to access your account please click here.
Getting outdoors on the slopes is fun and good for your health. This year is a great time to introduce your 4th grader to the joys of skiing and snowboarding.
The Minnesota Ski Areas Association (MNSAA) and its members are offering a 4th Grade Passport which offers free lift tickets for the passport holder. Our goal is for families to enjoy winter, have fun and stay healthy together.
All Minnesota Ski Areas are participating. The cost of the Passport is $34.95 (includes tax, payment processing fee and administrative costs of program), your 4th Grader receives an e-pass which includes a minimum of 2 free lift tickets for the Passport holder at each Minnesota ski area. Additional information on program offerings by area and a link to more details at each member area is provided on the website.
The e-passes are issued by E4Soft and are sent to the parents email address, sometimes they are marked as spam.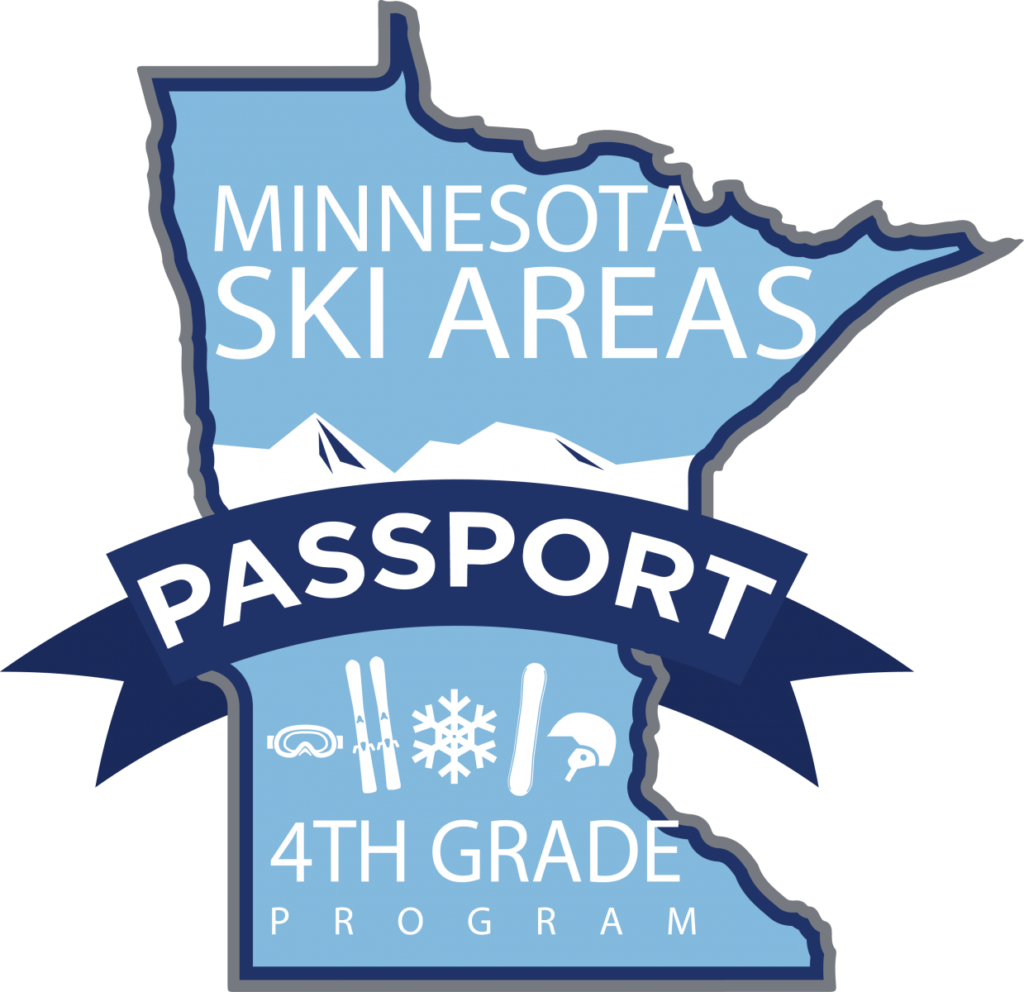 2021/22 4th Grade Passport Offers
Please note: the 4th Grade Passport can not be used in conjunction with any other offer or discount program and is not valid with group or team visits.
Area
2021/22 Season Offer
Afton Alps
Unlimited lift tickets

Not valid with group reservations or school field trips

Andes Tower Hills
Limit 2 daily lift tickets for season. Not available for school, club or other group trips; not valid with any other offer, special or coupon.
Buck Hill
3 Daily Lift Tickets – Cannot be combined with another discount, special or programs
Buena Vista Ski Area
3 Daily Lift Tickets for the pass holder only. 1 ticket available per day.
Chester Bowl
Unlimited daily lift tickets, no daily rental available
Coffee Mill Ski Area
3 one day lift tickets
Detroit Mountain Recreation Area
Unlimited daily lift tickets plus 3 free group lessons (does not include rentals) reservations required for lessons. Not valid for D Team events
Elm Creek Winter Recreation Area
3 daily lift tickets
Giants Ridge
Unlimited number of lift tickets for the pass holder
Hyland Hills Ski Area
3 daily lift tickets; Blackout Presidents Day & Martin Luther King Day
Lutsen Mountains
Passport is valid for 3 days at Lutsen. Single-day and 2-day redemptions are not available on Saturdays or during the holiday periods of 12/26/21 – 1/2/22 and 2/19 – 2/20/22. 3-day redemptions are available the entire season except 2/19 & 2/20/22. Reservations are required, please click here to view reservation policy.
Mount Kato
3 daily lift tickets for the pass holder only (1 ticket available per day). Not available for roving ski schools or D team events.
Mount Ski Gull
unlimited lift tickets; blackout dates 12-23-21 to 1-2-22
Mt. Itasca
3 one day lift tickets
Powder Ridge
4 daily lift tickets, valid Monday – Friday. Blackout dates 12/26/2021 – 1/1/2022
Spirit Mountain
2 daily lift tickets
Add on a rental for $5
Add on Spirit Kids – two-hour beginner group lesson for $15
(Advanced reservations required. Mention 4th Grade Passport when registering. Only valid on Saturdays and Sundays.)
Parents/Siblings $10 off full-day lift ticket
(Please call the Snow Sports Center at 218-624-8516 for a promo code before reserving tickets or lessons online.)
Welch Village
Passport holders will be issued a 3-day Welch Village Season Pass, valid for three days, Monday – Friday only, with the exception of the the following black out dates:
Friday, Dec. 24, Monday, Dec. 27, Tuesday, Dec. 28, Wednesday, Dec. 29, Thursday, Dec. 30, Friday, Dec. 31, Monday, Jan 17 (MLK), Monday, Feb. 21 (President's Day)
Wild Mountain
Unlimited number of lift tickets for the pass holder only (1 ticket available per day). Not available for roving ski schools or D team events
The Alpine Factory
50% off lessons for the pass holder (group or private rate), and 25% off for immediate family (group lesson rate; must be in same lesson group as pass holder). Blackout dates: Dec. 23, 2021 – Jan. 2, 2022. Offer good between Nov. 29, 2021 – May 29, 2022.